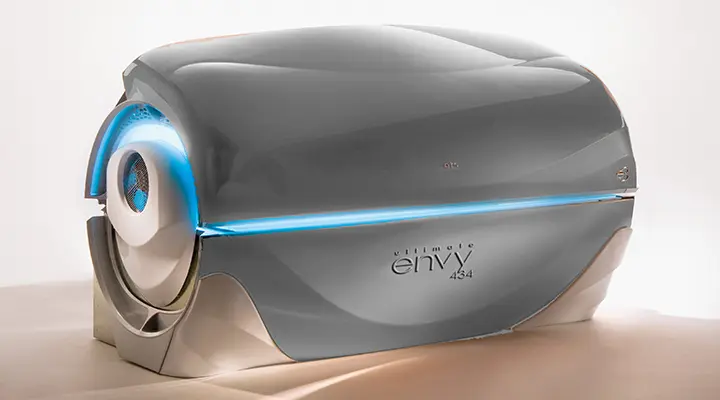 Envy 434
E3 Technology
The Ultimate Envy Collection will satisfy every tanner's fantasy for a deep, rich, full body bronze glow. Relax and indulge, experience a soothing sense of therapeutic contentment and overall enhancement of personal well being. Enjoy the ultimate tanning experience.
34 160W UV body lamps.
3 400W High-Pressure facial tanners.
8 25W shoulder tanners.
Mood Mode light effects.
MP3 Stereo audio system.
TMax Wireless compatible.
Variable speed foot fan.
Superflow internal cooling system.
Advanced after tan cooling system.
Lamps: 34 x 160W UV lamps.
Lamps: 3 x 400W facial lamps.
Lamps: 8 x 25 watt shoulder tanners.
Exposure: 12 minutes.
Power: 6,881 watts.
Electrical: 220V 3Ø, 230V 1Ø.
Circuit Breaker: 30A / 3-pole 3Ø.
Weight: 824 lbs.
Dim. Closed: 89″L x 46″W x 59″H.
Dim. Open: 89″L x 46″W x 59″H.
Rec. Room Size: 9 ft. x 7.5 ft.