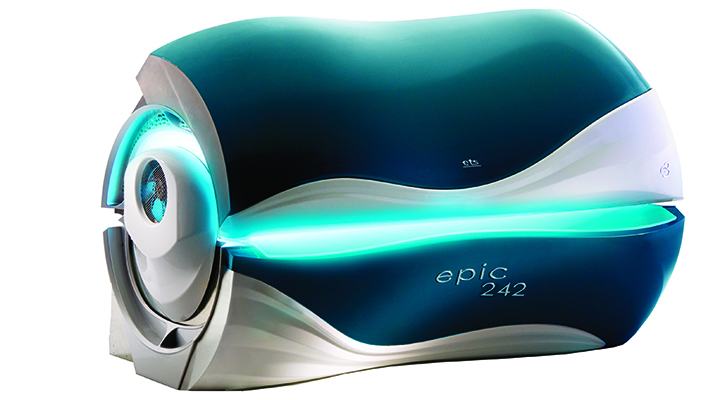 Epic 242
E3 Technology
Engineered with revolutionary e3 technology incorporating eco-friendly lamps, ergonomic elements and energy saving principles. The Epic Collection is the classy, sophisticated solution for an exotic, tropical island tan! Dare to live on the edge, be the envy of other's forbidden desires.
42 120W UV body lamps.
3 400W High-Pressure facial tanners.
8 25W shoulder tanners.
Mood Mode light effects.
MP3 Stereo audio system.
TMax Wireless compatible.
Variable speed foot fan.
Superflow internal cooling system.
Advanced after tan cooling system.
Lamps: 42 x 120W UV lamps.
Lamps: 3 x 400W facial lamps.
Lamps: 8 x 25 watt shoulder tanners.
Exposure: 15 minutes.
Power: 5,287 watts.
Electrical: 220V 3Ø, 230V 1Ø.
Circuit Breaker: 30A / 3-pole 3Ø.
Weight: 836 lbs.
Dim. Closed: 89″L x 52″W x 63″H.
Dim. Open: 89″L x 52″W x 63″H.
Rec. Room Size: 9 ft. x 7.5 ft.